Trust is of paramount importance in the digital world. At Cynnex we build security into every aspect of the network. We help companies develop trust, build confidence and capture growth by re-solidifying security and privacy through your people, processes, and technology. Our engineers are experts in safeguarding your information, systems and Web sites. Our security services help you manage risk and protect your business-critical data.
An integrated system provides greater risk reduction than any individual product or combination of disparate and disconnected security devices, regardless of features or performance. Using the network to provide a common security architecture: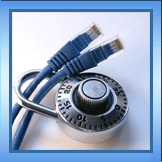 Reduces complexity
Enables tighter integration
Closes risk gaps
Provides greater visibility of end-to-end security
Cynnex Networks has introduced Security Checkpoint, an all inclusive security solution designed to keep out hackers, keep your data safe, and prevent network disruptions from virus and worm attacks. Using sophisticated methods and technology, Cynnex Networks monitors your network for security breaches and reacts before damage can be done. This proactive approach towards security prevents downtime and expensive costs associated with recovery from attacks.
This approach is integrated, collaborative, and adaptable:
Integrated: Every element in the network acts as a point of defense. Switches, routers, appliances, and endpoints all incorporate security functionalities including, but are not limited to, firewalling, virtual private networking, and trust and identity capabilities. This integration incorporates technologies inherent in the secure operation of network devices.
Collaborative: Various network components work together to provide new means of protection. Security involves cooperation between endpoints, network elements, and policy enforcement. For example, with Network Admission Control, endpoints are admitted to the network based on their adherence to security policy as enforced by network devices such as routers and switches.
Adaptive: Innovative behavioral methods automatically recognize new types of threats as they arise. Mutual awareness can exist among and between security services and network intelligence, thus increasing security effectiveness and enabling a more proactive response to new threats. This effectively mitigates security risks by broadening threat-recognition capabilities and addressing threats at multiple layers of the network through behavior recognition, application awareness, and network control.
Our capabilities include:
Security Assessment
Policy & Procedure Consulting
Virtual Private Networks (VPN)
Firewall Installation and Managed Network Services
Intrusion Detection, Protection, Monitoring and Response
Next Generation Networks/Voice Over IP